Removals Storage service at Inner West Removals is the most economical you will find in the area. We utilize the spaces for storing more items, thus, helping our clients in saving cost. Also, most of the storage facilities require you to move your possessions on your own which results in double-handling and thus, increased cost. However, we take care of everything from moving and storing as well as packing (if you prefer), which saves a lot of money, efforts, and time. Our storage services are beneficial for those planning a renovation or spending some time overseas.
Your storage options when moving house
Do you need to move your household content into storage? Are you heading overseas or interstate? Are you building a home and need to store your stuff in the interim? Or is there a gap between moving out of your old home to your new home? At Inner West Removals we have a number of different storage options. Short-term, long-term, small amount, large amount, we can find a solution for you.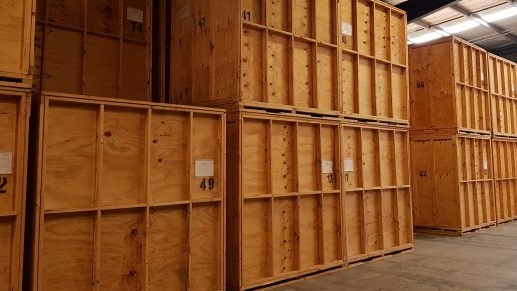 Why Hire Us?
Storage services at Inner West Removals are the best as we keep the following things in mind.
Time and Efforts Saving
We just don't see any benefits in double handling. It is a waste of time, efforts, and money. Double handling is when you hire a different company for transporting your possessions to the storage facility. In such a situation, a lot more time is taken as compared to what is required. Also, you need to hire a packing service too or do it yourself, which is again a waste of efforts. Thus, double handling always leads to a waste of efforts and time. We, at Inner West Removals, doesn't work on this model. We offer our own transport and packing service.
Cost-Effective
As mentioned above, double handling results in added costs. So, we offer a transport service to our clients. We also offer a packing service where our team pack more into less space while minimising damage. With our services, you don't have to outsource transport services. Our storage packages are inclusive of transport and even packing (if you require). Thus, saving you the costs. Our professional team is experienced in lifting heavy items without any damage to the goods or the property.
Security
Inner West Removals offers secure storage facilities. We have 24 hours security staff and CCTV cameras working 7 days a week. Our storage area also has restricted access. Not only the storage facility but the storage boxes are also designed to keep the goods in good condition. The boxes offer safety from mould and moisture. Thus, your belongings are safe in all terms with Inner West Removals.
Customised Storage Solutions
Our storage solutions are customisable for clients who need to access their belongings during the storage at the facility. There might be a situation where you need to access some of your belongings during the storage. So, we can offer a customisable package to ensure that. Also, if you don't want to access your possessions during the storage, let us know. We have a cheaper solution for that.
Flexible Contracts
Our contracts are flexible for the convenience of our clients. If due to any reason, you need your possessions back before the contract term, we will ensure the same even at a short notice. Tying our clients forcefully to a long term contract and making them bear the unnecessary costs is surely not the way we work. Just let us know if you want your things back before the contract ends.
Reach Out to Inner West Removals
If you need to move your contents into short term or long term storage then we have a facility to keep your possession safe and sound. For a no obligation discussion about your options give is a call via our Contact Us page or click the button below to be taken to our Quote Form.